The aim of the automotive use case in CPSwarm is to set up a laboratory level demonstrator (TRL 3 to TRL 4, demonstration in breadboard lab environment) in the area of autonomous driving vehicles intended for freight vehicles like trucks or vans and connecting them via kind of an electronic drawbar.
The leading vehicle prescribes the actions and decisions (i.e. navigation, decision on take-over maneuvers, sequencing maneuvers, lane change etc.) for the follow-up vehicle(s) that will make use of the leading vehicle´s actions. The follow-up vehicle will need full autonomous driving capability and environmental awareness as well,  however they will follow the leading vehicle in a preset distance even when they have to make decisions, i.e. in case of lane change maneuver on their own.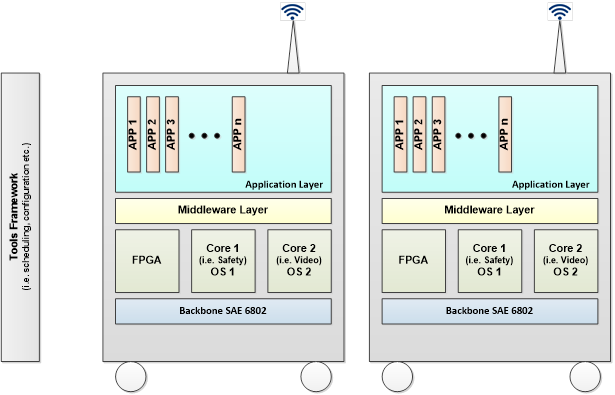 The follow-up vehicles will also take over full control in case the lane change needs to be interrupted for the complete swarm due to other traffic prohibiting to change lanes. This use case shall pave the way concerning the first technical challenges to solve. TTTECH already provides such computers in a centralized computing architecture for European passenger car manufacturers and now intends to widen the scope also in the area of commercial trans-portation of goods (trucks & vans).
Concerning the CPSwarm contribution for this use case, an autonomous drive platform will be enhanced and modified and two of these platform modules will be connected via a wireless connection. The two local networks in use will be based on an automotive TTEthernet communication platform. We will also make use of the configuration and deployment tools that will be developed within the project to configure the drive computer platforms for the lab demonstrator. The drive computer will have the capability to connect with a sufficient number of sensors and actuators to cover such function and will also handle the sensor fusion. The intention is to eventually make use of a wireless communication like a WLAN connection that will be used for communication from the leading vehicle to the follow-on vehicle(s). The demonstrator will be a computer set-up on a lab-table (not integrated into moving vehicles due to cost reasons). It will show that the communication within one or multiple systems can be set-up in an architecture and design suitable for such a challenging autonomous drive scenario.